My primary role for the Ultra Cornhole redesign was to improve the brand online eCommerce experience for enthusiasts everywhere. We created an intuitive and easy to use experience that enabled users to quickly find what they are looking for. There was also an emphasis on accessing brand content throughout the site. This helped increase engagement and answer questions about the products.
Web Design
UX Design
WordPress
eCommerce
Visit Site
As the Front-end Developer, I was responsible of redesigning the user experience of the website, redefining the user interface and studying new interactions between the user and the Interface.
For the core pages of the site, the goal was to create layouts that would be flexible enough to accommodate a robust content strategy.
For this, is using WooCommerce for the eCommerce platform.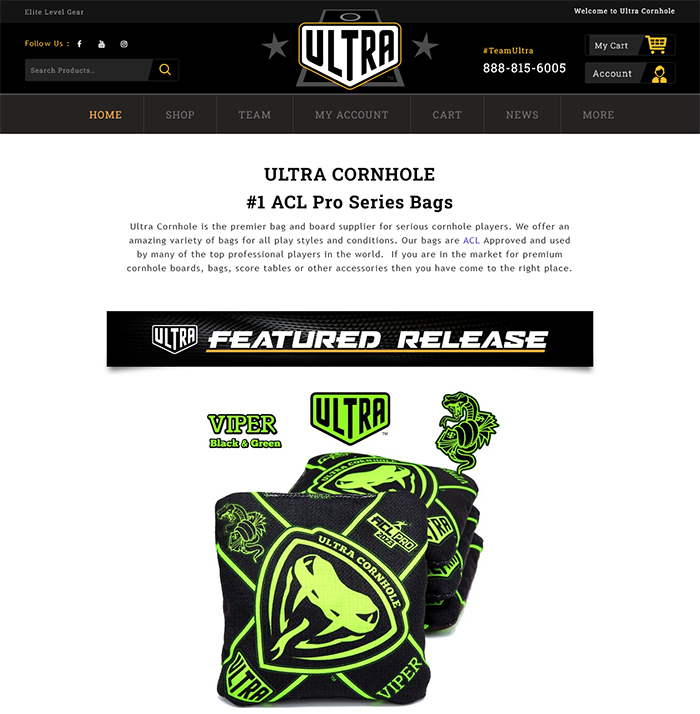 Reasons
It's easy for development - WooCommerce is free, flexible, and amplified by a global community. The freedom of open-source means you retain full ownership of your store's content.
It's easy to use - Similar to other platforms, WooCommerce has a very friendly administrative dashboard. All of the menus are very straightforward and user-friendly: Catalog, Sales, Extensions, System.
It's easy to make changes on the store - When you cannot get everything on the administrative dashboard, WooCommerce makes is easy to modify files and customize it to your needs.
Lots of well documentation - A lot of information exists on Stack Overflow and WooCommerce site as well.
Creating effective product pages
It's fairly easy to add products and product pages to your store in most eCommerce platforms. However, if you really want your products to sell, you need to approach your product pages the right way.
Title & description - The title and description field contains text that tells your potential customers what your product is, how it's made, what it does and other important information. In addition to telling your customers about your product, your title and description are what Google will look at in determining which organic searches your product can show up for. It's important to note that these organic search result placements are different than paid search text ads or Google Shopping ads.
Images - In online shopping, image quality matters, a lot. Since people can't actually examine your product in person, they are forced to rely on your images to make a decision. So, if you don't have great images, you probably won't have great sales, either. Ideally, it is best to have high-quality, clear images taken from a variety of angles. In addition, if your product has special features that you want to highlight it is also a good idea to include specific photographs of those features on your page.
Loading speed optimization - Unfortunately, images are something of a double-edged sword. While high-quality images are great at convincing people to buy, they can also slow down your website. Most people will only tolerate a page load time of about 2 seconds, so if those beautiful photos don't load quickly, they could end up killing off potential sales instead of aiding them!

The shopping cart experience
The better your shopping cart experience is, the more sales you will get. With cart abandonment rates floating around 80%, anything you can do to make your shopping cart experience easier and more intuitive is a step in the right direction.
Using a simple Cart plug-in to keep your customers' shopping cart items, well, in their shopping cart is an easy way to improve your cart experience.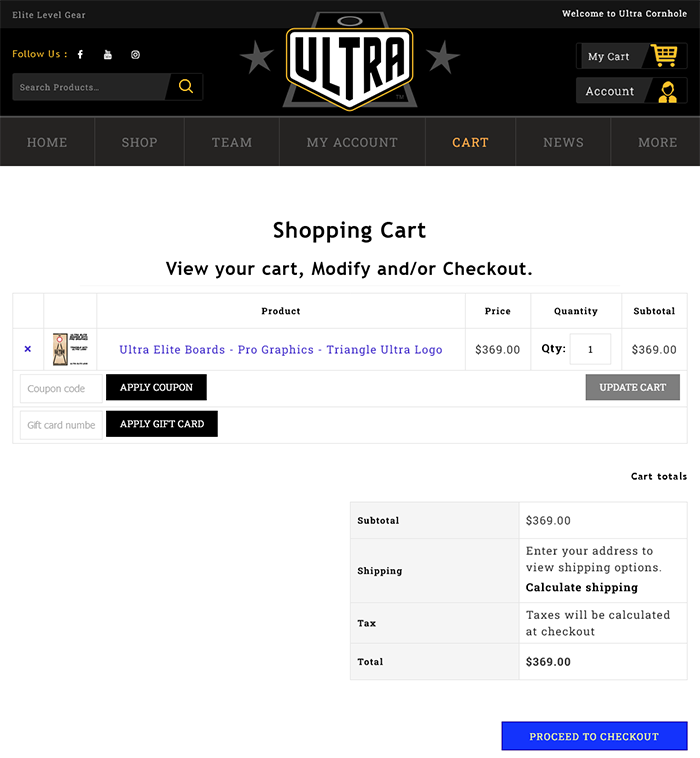 Custom designs
Besides redesigning the website and taking care of the eCommerce side, I was also doing custom designs for clients that wanted to personalize their order.
These are some examples of the custom designs: